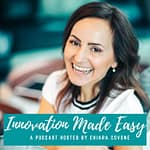 Tune in to listen to my engaging conversation with Dr. Jonathan Tam.
Jon is a great communicator and a leading career coach and consultant, helping people transition from feeling stuck in their careers to finding work they'll truly love. Jon has a Ph.D. in Sociology from the University of Oxford and a master's degree in Education, Culture, and Society from the University of Pennsylvania.
He started his career coaching and consulting practice in 2018 and has a YouTube channel focused on providing scientifically informed career advice.
Jon is passionate about leveraging social science to bring out the best in teams and help people feel fulfilled in their work. He has published in top social science journals and given dozens of presentations across North America, Europe, and Asia through leadership conferences, academic conferences, school assemblies, and other events.
He is currently a faculty member of Canadian Chinese School of Theology at Tyndale University.
While Jon loves teaching people the nuts and bolts of human social science, he loves his wife and three children more.
To learn more about Jon you can go to this LinkedIn Profile.