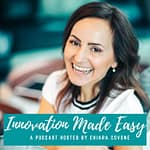 So many people strive to be more influential and wish their opinions was more heard and considered.
But is there a myth about influence? Are we not overcomplicating it?
In this week's episode I deconstruct influence in different tactics and I am sure you will be positively surprised of actually how much influence you are already exercising.
Start where you are: understand what is already working and clearly define which areas (tactics) you feel you would like to try and practice more to become better at it.
FREEBIE: Access my 3 parts free course to Stop Procrastinating here.