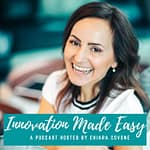 Do you catch yourself saying 'I would love to, but I don't know how' and wishing to get a step-by-step, guaranteed-success process from some gurus or expert out there, to solve your problems or make your business work? Trying to look for the answers outside of us is a sneaky way of avoiding the need to take responsibility if it doesn't work. And it makes us feel like we can skip over all the negative emotions that are part of the journey:
Fear
Embarrassment
Confusion
and all the rest.
I have been there myself too, my friend. And I learned through coaching and consciousness how I was playing small and avoiding embracing discomfort and hard work to find my own how.I love 'Steve Jobs' quote that says 'you can only connect the dots when looking backwards'.In this episode, I'm diving deep into the concept of the importance of taking responsibility for your own success. If you determine your own 'how' you are building a skill that will serve you in all aspects of your life.If you want to be a real leader, you have to go through the trial and error path of trying out things, see if the work and scale them up, or go back pivot them and do something else instead. Until you find your unique how. Sure you can get inspired by others and we don't need to reinvent the wheel every time. But if you are after something bigger and more meaningful, then there is a good chance that nobody else has done it yet before you. The skill you will develop will serve you in every area of your life. Tune in and listen to this episode as I talk about:
How asking for concrete directions can transfer the responsibility for your success to someone else.
Why you should want the responsibility of figuring out how to do something.
Why you have to accept responsibility for finding your how and accept that failure is part of the process.
The four steps for discovering your own how.