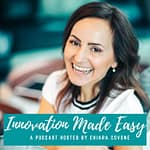 Humbleness is noble but can damage your visibility and – in the long run – also your motivation.
Bragging is also not recommended since people that brag are seen as inconsiderate and, actually, evidence shows that they are not believed to be better performers than their humble colleagues.
How do we strike a balance between those two behaviors?
I discuss what you can consider and reflect upon in this week's episode.
What I cover:
Reflect on the cost of playing down your achievements
Ask yourself why you behave the way you do – nurturing the curiosity towards yourself and aiming at deepening the relationship with yourself
The role of sponsors
Some tactical ways you can make your strengths and achievements been recognized without bragging about it.
Access my FREE Masterclass to learn and practice the 3 steps you need to achieve any goal, by going to https://www.covone.se/Goal