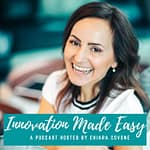 Stop multitasking.
There is no real way to multitask.
We can't do two things at once, so multitasking really means we keep shifting from one activity to the other. And what this doesn't take into account is how long it takes us every time to go back to the activity number one.
We are much better working on one thing at a time until completion and then, only then, start the new activity.
Join me in this weeks' episode where I debunk the myth of multitasking and explain you why I know that multitasking is inefficient and how and what to do instead.