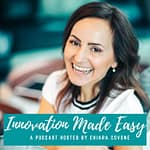 Adrienne Duffy said it beautifully:
"Motivation requires some things from the outside to activate you. Inspiration is an internal energy that keeps you continually fueled".
Exploring the difference between those two terms really got me thinking.
Many times, people might mix them up and believe they mean the same thing.
And I am here to guide you through distinguishing between them: one comes from the inside and one from the outside.
Isn't it powerful?
In this episode, I am going through both motivational leadership and what it entails, as well as inspirational leadership. And how, in fact, we want both to be present.
I am also talking about movivation vs. inspiration at a personal level. Knowing where we stand when we set goals and activities for ourselves and tuning into our thoughts, beliefs and feelings and be clear if we are driven by inspiration or by motivation.
Motivation, meaning driven by an external force or reason is powerful but the risk is that it runs out of fuel.
Inspiration, coming from a place of abundance and passion, and joy have, in my world, a bigger impact vs. willpower…
I am curious to hear your take on these two terms. Leave me a comment below.
Until next week,
Chiara