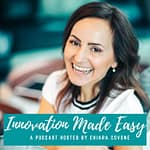 Executive Presence is what you tell the world, what you signal to the world and is the result of three distinctive factors:
1. Your gravitas. In Latin gravis means 'serious'. It is about your seriousness. Your dignity. Your gravitas is about how well you know your stuff. Cold. Do you know your stuff three questions deep? This is about your expertise.
2. Your Communication skills. Your style. Can you get your message across? Do you know how you be heard? No matter how profound your gravitas, if you can't get your message across, it is going to be very difficult.
3. Your Appearance – how you dress; how you stand. If that is not right it will stay in the way for your gravitas to shine.
I know for some of you the above list might feel daunting so I wanted to give you a very easy tip to increase your executive presence and convince you why this small detail can make such a huge difference.
Slowing Down.
Tune in to listen to the full episode and reflect with me on how you can increase your executive presence to have the highest chances of being heard and be the leader your world needs.
If you want to take a test to assess your executive presence, access the test here and take the survey.
I would love to hear from you: how do you feel about your executive presence? how important is it in your daily life – at work and off work?
Until next week,
Chiara