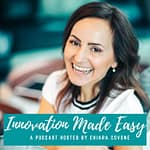 The first thing that comes to mind when thinking about assets is, usually, not people, nor brains.
And this week I would like to stress the importance of People as a company assets and then, for individuals, highlight how our brain is our most important asset.
If you agree with me on this point then you will naturally follow my train of thoughts around questioning how much we spend and invest in our brain power to maintain its capacity and maximise the output from this asset.
Yes we do that very much in the first 20 years of our life, but what happens then?
In this episode I also explain (in very simple terms!) the difference between two parts of our brain, to help you become more aware of your thinking patterns and provide you with insights and inspiration to leverage that amazing asset you have: your own brain!