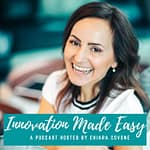 This week I am sharing with you my journey on how I learned to master my time and look forward to Monday mornings as a key starting point in my weeks towards achieving my goals.
It all starts with defining what you want to achieve and be clear about your individual ambition.
Work by quarters: what are your top 3 priorities? Those three priorities become then your compass for keeping track where you are going and if you are staying committed towards your goals.
What do you need to do for those three priorities to be completed in the given time? How can you increase your odds to succeed? How do you let math support you and don't allow the drama tot take over.
Tune in and listen to this week's episode about time mastering!
Link to the Kore Women event: https://youtu.be/6WbDXmEcTcA
Access my free masterclass to achieve any goals here.