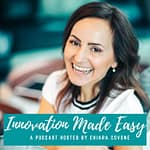 This week I asked the amazing Karem Mieses to join me on the show.
Karem and I are both in a FB group and we agreed to collaborate since we feel aligned on so many dimensions and the work we do is so complementary!
I started this interview with a lot of curiosity and the insights that Karem shared were so revealing for me: everyone has an amazing story to tell, but we sometimes forget to ask and listen to be delighted and to understand how so many of our successes are actually born out of struggle.
I am so glad that Karem was so authentic with me and shared her story and I am delighted to bring it to you in this episode.
Karem brings with her 20+ years of experience working with family-owned businesses to help them accelerate their profits and maximise their time. She is Business Strategist & Productivity Expert and calls BS on the lies keeping ambitious bosses stuck!
The questions I asked her Karem were…
"What were the most pivotal moments in your life?"
"How can you do it all?"
I also asked Karem to share with us her infallible method to get things done and you definitely don't want to miss her super-applicable tips.
Join this conversation with Karem where we discuss some of the above questions and much more!
And if you want to listen to my interview with Karem in her show, Life Boss: Becoming Unstoppable, click here.
For more information about Karem, you can go to karemmieses.com/