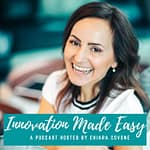 This week let us talk about ambition.
Some people believe that ambition is a negative quality in a person and others think that is a positive quality that everyone should strive for.
So what does it really mean to be ambitious?
In this episode I discuss the meaning of the word ambition to help you figure out if you can be inspired by people described as ambitious or not.
Listen in to find out what you can do to cultivate ambition within you, and do it for the right reasons.
What I am covering in this episode:
What it means to be ambitious
2 different ways to be ambitious
What is holding your ambition back
Overachievers vs. underachiever and why it is not a useful conversation
Why ambition has gained such a bad reputation
The importance of figuring out why you are (or are not) ambitious
Whether ambition can be cultivated
And you? Are you ambitious from a place of abundance? Let me know in the comments!