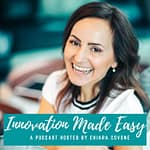 The year end is approaching fast and what best time to start working on your 2021 goals and dreams.
And if you think that setting goals is at the antipod of being here and now – then you have to listen to this episode.
You know I am a bit advocate of practicing being in the present moment and accepting this present moment; and in fact we want to set goals from this place of abundance. NOT because of the believe that we are lacking something.
I believe that to have a fulfilling life means to evolve and setting goals helps us be intentional in which direction we are evolving and what matters to us.
Goal setting is also a very powerful way to direct your brain since, if 'unsupervised', we know that our brain will always choose immediate pleasure and avoid discomfort over 'hard work'.
In this episode I share why setting goals is one of the most deep practices we can undertake, and also the most compassionate thing we can do to ourselves.
I will cover:
Why setting goals and being in the moment and not at odds with each others

How to set goals from a place of abundance
How to spend time wanting what you already have and why it's one of the most important skills you can develop
How setting goals and go get them will give you the opportunity to become aware of your obstacles and practice overcome them.