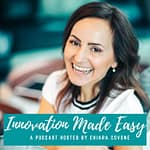 I have spoken about journaling before on this podcast…
I am big supporter of this daily activity because that was the first activity I have introduced in my life when I started my journey to regain power and self-confidence in myself.
Journaling is for me about downloading your thoughts; looking at your brain and embrace the role of observer of your own mind. It allows us to understand why we are feeling the way we are feeling and decide deliberately what thoughts we want to let go of, challenge or continue thinking.
The more you feel stress and out of control, the more an activity like journaling helps you gain clarity on what is bothering you. And despite the fact that most people understand intellectually the importance of this activity, still… I know most people still don't do it.
So here I am today, highlighting some of the obstacles and excuses you might have to not consistently (if at all) include this activity in your daily schedule.
Because I know that a lot of people are struggling or are quite dismissive with this activity.
So let's look at journaling from a different angle. I want to bring to the surface some of the obstacles that might have been the reason for you to not embrace this activity.
I trust that by listening to this excuses you will become more aware of your choices and give it another go.And of course, if I can help you finding a way that works specifically for you to start practicing this wonderful 'thought download' – mind cleaning activity book a complementary call with me here.