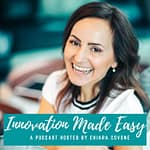 Last week's episode was about The 6 Triggers of Persistence and I wanted to continue on the same topic, but this time we will discuss what stands in the way for us to practice and maintain a mindset of persistence in the obtainment of our goals.
This is all about raising your awareness on your bahaviour, attitude and habits so you can understand what is going on and can make and informed decision around starting / stopping / continuing on a specific pattern.
I find it so fascinating to learn how we are wired as humans and how many automated behaviours we have – many of them which serve us but some of them are actually staying in-between us and our greatest potential.
There is quite a lot of symptoms that I am covering here, some of them are correlated but many stand on themselves.
I am curious to hear which of these was most surprising or eye-opening to you.
Leave me a comment and let me know.
Until next week.
-Chiara