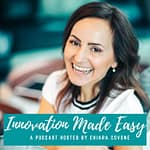 "Time isn't precious at all, because it is an illusion. What you perceive as precious is not time but the one point that is out of time: the Now. That is precious indeed. The more you are focused on time—past and future—the more you miss the Now, the most precious thing there is."

Eckhart Tolle
Being in the moment is one of the biggest things I have learned in 2020 – stop rushing and always run after the next goal, the next thought, the next thing.
Stopping and really savouring the moment – here and now – living the fullness of this moment in time was one of the key driving of my new life as more intentional, living at my own pace and enjoying who I am right now, right here.
And to be able to do that you want to plan ahead of time. I know it sounds contradictory and this is why I invite you to tune into this episode of the podcast to give me the chance to inspire you to really look at time management with completely new eyes.