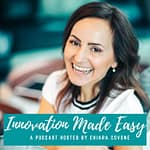 More and more organisations are seeing the value of Project Managements skills, tools and practices beyond the professionals with that title and role.
In this week's episodes, I share with you what I think are some key tools you can apply in any project / goal both professionally and privately.
In particular, I will be discussing:
– The Project Charter as a way to get everybody aligned and its key elements.
– The Initiation phase of the project and the KEY question you want to ask before start diving into planning and resourcing.
– The Debrief – key moment(s) to celebrate the successes and reflecting on all the lessons learned on the way to get (even) better the next time around.
Warmest,
Chiara