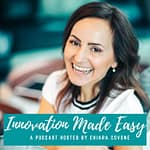 How often do you hear people at work saying
"This person is not good."
"He/she is a poor performer."
The trouble I have with sentences like these is that they don't leave much room to change and new possibilities.
Already by changing the sentence to something like…
"This person is not performing very well in the current circumstances." you will notice immediately how it gives hope to change and opens up to a lot of possibilities.
In this episode, I introduce this formula
Performance = Potential – Interference
And I go through the three elements of the formula one by one.
Because I know that the potential of all of us, in the different roles we have in our life, is enormous, but that there are thoughts, habits and attitudes, as well as skillset that affects and reduce the potential impact we could have in the world.
So listen in as I unfold these concepts and inspire you to greater and deeper awareness.