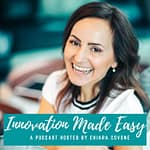 Why do we sleep? And do we need to sleep for 7-9 hours to be fully functional? When doing my research for last week's episode, I got so interested in sleep and I finally decided to answer my own question around why is sleep important and why it affects my mood and energy so much.I am adventuring myself into territories of neuroscience and talk about hormones and neurotransmitters as a non-scientist (OBS: I am a statistician by education) but some of these terms are so recurring that I think among non-scientist we can get a grip on them in a way that it is useful.Tune in and find out more about
why we sleep
what happens during our sleep
how we regulate the day & time rhythm naturally
how sleep affects business performance.